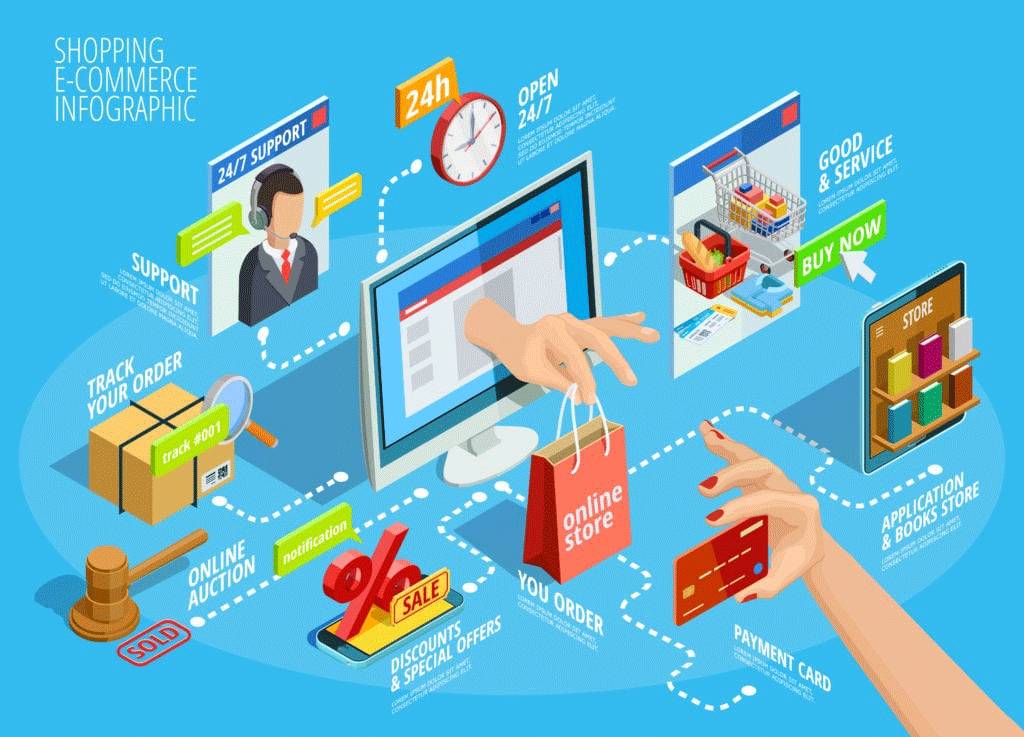 Technologies in the E-commerce Sector
The world is ruled by technology. The business sector is compelled to adapt to changes as time passes and technological innovation occurs in order to remain competitive in today's society. Technology advances in the e-commerce sector have a big influence on online buying. New technology, changing client demands, and the ongoing shift from desktop to mobile devices will all have an effect.
Whether you've been in the e-commerce market for a few years or are about to launch an online retail firm, familiarise yourself with these five critical e-commerce sector technological developments that will influence the industry's future:
1. The Mobile Phone is on the Move:
Mobile is not just the future of e-commerce, but it is also the present. The number of smartphone users is growing by the day, and the significance of smartphones in e-commerce traffic is becoming increasingly important, as buyers increasingly utilize smartphones for online purchasing. More than half of the world's population currently uses smartphones for internet shopping.
The PC is still the favored way of e-commerce shopping for customers. However, as global e-commerce trends reveal, mobile devices will become the primary instrument for learning about, researching, and purchasing products and services.
In a word, your business's activities will revolve around smartphone users. Mobile optimization has a direct influence on the search engine ranking of your online marketplace, and cellphone is now a crucial factor in the ranking algorithm. When you consider that 40% of mobile device users will seek out a rival after a bad experience, you can see why.
2. App and Mobile Wallet:
It's not simply enough to optimize your e-commerce site for smartphones. You must include a mobile wallet's capabilities into your company's website. In addition, you should think about establishing a mobile app for your website. One of the most important technological developments for e-commerce in 2019 is a user-friendly mobile app.
As the number of people who shop online grows, more people are realizing the benefits and adding the security of utilizing a mobile wallet to pay for their purchases. It indicates that your mobile customers expect to finish their online purchasing with a wallet. Adding a mobile wallet to your e-commerce site can boost sales.
It is more convenient for shoppers to shop online utilizing a mobile app because it provides a more mesmerizing environment. Your mobile app is similar to a department store, and your website is similar to a pop-up shop.
3. Use of Voice Search:
In present era, virtual assistants like Google Voice Search, Amazon Alexa, Cortana, Viv, Google Home, and Siri are accessible. Customers have been trained to use their voice to do searches on search engines by these virtual assistants. Over time, voice search will emerge as one of the most significant e-commerce innovation drivers. Voice searches make up over 20% of all smartphone queries, according to Google.
Furthermore, more than 40% of millenarians use a voice assistant to do their searches. The use of voice search advanced technologies might be a crucial step in securing customer loyalty. The usage of AI (artificial intelligence) is aimed at fully interpreting the search query and providing the most relevant answers/results to the clients.
4. Customization of Products:
Allowing for product customization is gradually becoming one of the most essential elements in the e-commerce market. Furthermore, product customization is one of the fastest-growing technical developments in the e-commerce business. Because product customisation makes customers' purchases more comfortable, it has the potential to minimize the hassles of online buying while also meeting the demands of today's shoppers.
Automation is crucial in the personalization of products and services. YouTube, for instance, recommends a video playlist depending on a user's tastes. With their usage patterns, the service becomes more personalised for the clients.
The identical procedure is used by a variety of firms all over the world. Product customization has gone beyond a fad, encompassing entertainment, clothing, furniture, and home furnishings. Businesses are modifying products to make purchases more convenient and comfortable for their customers.
5. ROPO / ROBO will become more popular:
ROPO (Research Online, Purchase Offline) or ROBO (Research Online, Buy Offline) has been a popular trend for a few years. It cannot, however, be considered the evolution of the e-commerce commercial sector. It might be considered the apex of the previous decade's internet purchasing innovations.
Customers feel ROBO or ROPO makes it easy to discover products/services at reasonable rates. On the other side, ROPO helps e-commerce businesses track their offline conversions.
As a business owner, you must increase your digital marketing techniques in order to capitalise on the ROBO trend. You may use a range of metrics and tactics to fulfill the demands of ROBO shoppers, including CRM, consumers purchasing history, digital payments, and social integration.
6. Image search significance:
Customers can easily photograph products they are interested in and find similar examples on other sites that may offer better deals. Customers may simply picture things they're interested in and locate comparable examples on other sites using image search technology, which eCommerce merchants are incorporating into their websites to offer better deals.
Consider someone who sees a lovely couch but cannot afford it. If your company sells identical products for a lower price, incorporating image search into your website could help you capitalize on this opportunity and generate additional cash.
Conclusion:
Many innovative technologies in the e-commerce business are still to come in the future. Handheld or mobile platforms will be used by e-commerce businesses, and service subscriptions will be even more significant in the digital economy. The marketing and displaying of products will advance by leaps and bounds.
You can ensure that your e-commerce website is future-ready by adopting these technological advancements. If any features are missing, you should add them as quickly as feasible. If you want to incorporate any of the latest technology for e-commerce firms, you should seek expert assistance in this area.